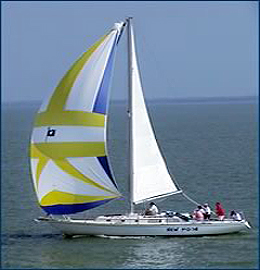 Day sailing is what I do the most of here, along the Lee Island Coast. We usually sail from Tween Waters Inn to Cayo Costa, Cabbage Key, North Captiva and Boca Grande.
For a half day sail (three hours), we can sail North to Upper Captiva in Pine Island Sound where the water is more protected but has the wind for a spirited sail, or out into the Gulf of Mexico. Cruising along the beach watching the sunbathers admire the beautiful boat you are sailing and racing the dolphins as they jump in your wake is a great way to start the day. If the wind is up and the tide is high we can circumnavigate North Captiva Island, that's about a 17 mile sail in 3 hours!
If you would care to take the entire day (a seven hour sail), we could go to Cabbage Key for lunch or enjoy the solitude of a beach lunch on Cayo Costa, a state park, where you can swim beside manatees, shell, snorkel, sunbathe or none of the above for a couple of hours. We can tow the dingy and stop at a secluded beach on Upper Captiva or just sail up to Boca Grande for an extended (nine hour) full day sail.
If you would care to sail longer than a single day - Please visit the Extended Cruising section of our website.