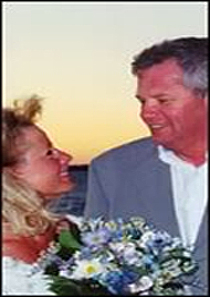 Begin your new life together on board the New Moon, a beautiful 38' sailboat dressed in flags and flowers, romantic music, surrounded by dolphins and eagles at sunset in fabled Pine Island Sound or the Gulf of Mexico with Sanibel and Captiva Florida in the background. Keep it private or bring up to four friends with you. If you have more guests we can charter or rent more sailboats and even acquire large luxury yachts for your party. We are allowed six passengers per vessel. Bring your own food and drink if you like or your wedding can be catered to your special desires.
We have photographers available and can permanently record your special day.
Sailboat Weddings, Beach Weddings and Outdoor Weddings, Sanibel and Captiva Island Florida has it all. Would you like to have your wedding on the beaches of Captiva or Sanibel or sail to another island and start your new lives barefoot, grounded to the elements, in contact with all the universal powers? I think we need all the good Karma we can get, don't you?
Wedding prices start at $300.00 so call soon for your reservations.